Sugar Skull Making Instructions
Celebrate Day of the Dead with your own sugar skulls!
Sugar Skulls are a traditional folk art from Southern Mexico used to celebrate Day of the Dead. Mounds of colorful sugar skulls are sold by Indian vendors in open air village markets during the week preceding the holiday. Spirits of the dead are welcomed back to their homes with beautifully decorated altars made by their loved ones. Sugar skulls, marigolds, candles, incense and special foods adorn home altars...
Read More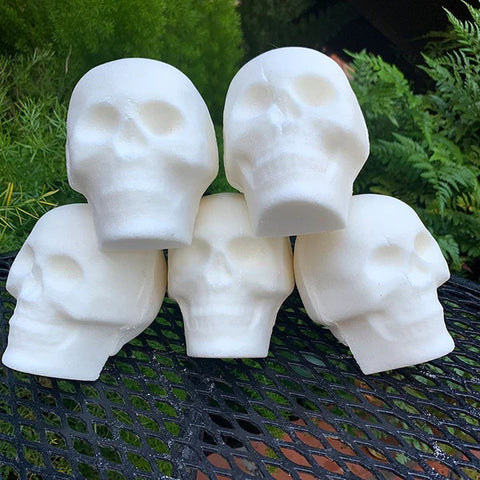 Large Plaster Skull Instructions
Large plaster skulls are attractive when you don't want to make traditional sugar skulls. Good for young children who don't have the dexterity to operate an icing bag. Also good for ofrenda builders who must leave their altars outside in variable weather where sugar skulls would be getting moist. Artists enjoy a plaster skull when making finer artwork.
Read More
Teacher tips ~ how to make large batches of sugar skulls
We recommend the medium skull for K-3, if you want the students to actually make the skulls. 3rd grade to adult can make the 2 piece, Large skull. All ages prefer to decorate the large skull to the smaller sizes. We do not recommend the mini skull for classroom use. The advantage to the medium skull is that you can make it today, and it's dry and ready to decorate tomorrow. The large skull requires scooping, assembly and more time for drying… which generally takes one extra day. Large skulls require more sugar than mediums, so consider this if cost is an issue. The charts below will help you determine the product necessary for your classroom project. Or, contact us with the details, and we'd will be happy to figure it up for you.
Read More